Inflatable Membrane Elements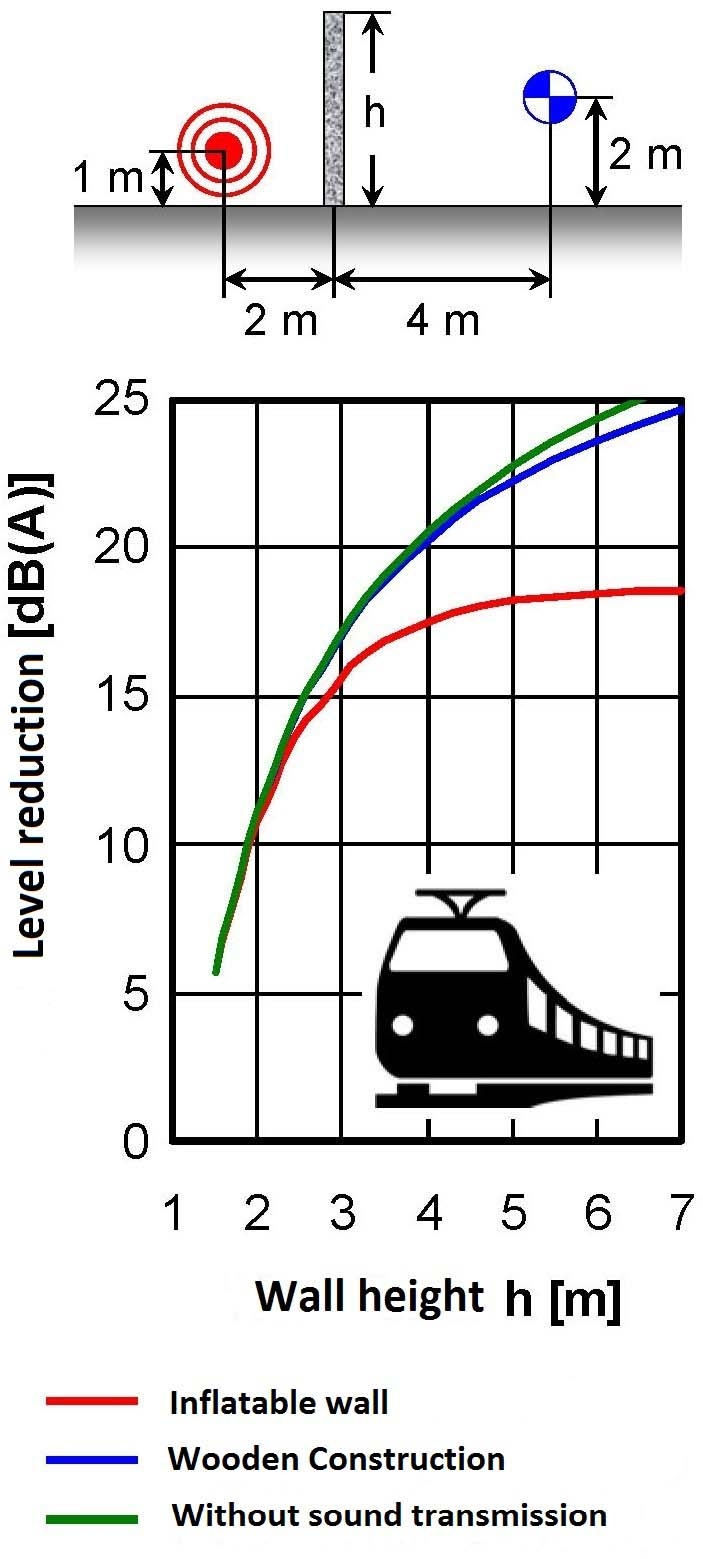 Light Solutions for temporary Noise Control
Noise Control Requirements
According to a survey by the Federal Environment Agency (FEA) more than 50 percent of the respondents find construction noise annoying, the majority even very annoying. So this kind of noise ranks before industrial noise or the noise emitted by railway vehicles. In the face of increasingly and intensified building activities the application of low-noise building machinery has not produced any essential change so far, especially at urban building sites.

There are ways and means to react to continuous noise, e.g. by selecting the place of residence or appropriate windows and facades and by building noise barriers. But there are not yet any efficient as well as economic solutions to respond to temporary noise sources in the vicinity. Moreover, the loudness of noise is considerable and varies permanently so that those, who are involved, can hardly get acquainted.

The economic effects range from reductions of rent to restrictions to operate the building site so that acoustic and cost-efficient alternatives for temporary noise control against construction noise must be found.

Noise Control Solutions
Thin films or membranes are too light for noise control purposes! It was the objective of research projects at the Fraunhofer IBP and the University Stuttgart to eliminate this prejudice. In the process, detailed research was performed in the field of accoustics, i.e. reflection, absorption and diffraction at acoustic screens, as well as with regard to the economic balance.

The solution is to be found in double-leaf inflatable elements, which almost achieve an impact comparable to concrete walls with the typical dimensions of noise control barriers. This impact can be verified and designed by means of the developed computation methods. Practicability was also tested. Application at site is carried out without any difficulties, indicating the high potential of mobility and flexibility. With regard to acoustics the predicted values of noise reduction of light screens could be demonstrated by audibility.
Careful design is the road to success. This holds true for all solutions.

Joint development in cooperation with