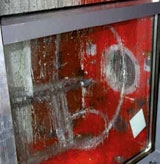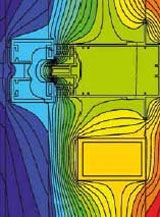 Originally located exclusively in Holzkirchen, Germany, in May 2008 the department grew through the addition of the Stuttgart group on "thermal parameters and climate simulation." This way, now all of the material parameters required for hygrothermal simulation can be determined within the department. Conversely, the steady state thermal testing methods in place in Stuttgart are supplemented by transient procedures introduced from Holzkirchen. Moreover, the departmental emphasis to date - on opaque building shells - is now supplemented through addition of transparent building components through certified test facilities in Stuttgart.

Another benefit of the expansion is the linkage between computational and laboratory climate simulation. Hygrothermal simulations help calculate maximum thermal and moisture-related loads for building components under practical conditions; these loads provide a basis for accelerated weathering experiments in the laboratory. Conversely, the leakage rates measured in laboratory climate simulation due to manufacturing-related imperfections in the building components tested can serve as inputs for hygrothermal simulation calculations. This way, manufacturing quality can be factored into computational predictions of the behavior of building structures as a function of temperature and humidity conditions. These predictions provide the basis for estimations concerning the durability and the risk of damage or failure.

Thermal parameters – Climate simulation
The thermal research laboratory at the Stuttgart site is officially recognized by the German building technology institute DIBt as a test center in accordance with the federal state building code (Landesbauordnung) and construction products lists (Bauregellisten) and as a Notified Body (no. 1004) for windows, façades and insulation materials in accordance with the EU Construction Products Regulation. The laboratory also has flexible accreditation from Germany's national accreditation body DAkkS (Deutsche Akkreditierungsstelle GmbH) in accordance with DIN EN ISO/ IEC 17025. Numerous parameters are used to determine the characteristics of building components and materials, including the following:
Thermal conductivity

Thermal resistance

U-value

Heat dissipation

Dimensional stability under the effects of heat

Compressive stress and tensile strength, adhesive strength

Freeze-thaw resistance

Moisture absorption via vapor diffusion in temperature gradient

Flow resistivity

Air permeability

Resistance to rainwater penetration

Resistance to wind load
Integral radiation-technology methods are also employed, including the following:
Thermography of components

U-values for glazing are determined in acordance with DIN EN 673, especially for custom-made glazing and for existing glazing
In addition, various solar simulation facilities are available to test building component surfaces of up to 8 m2 under radiation loads.