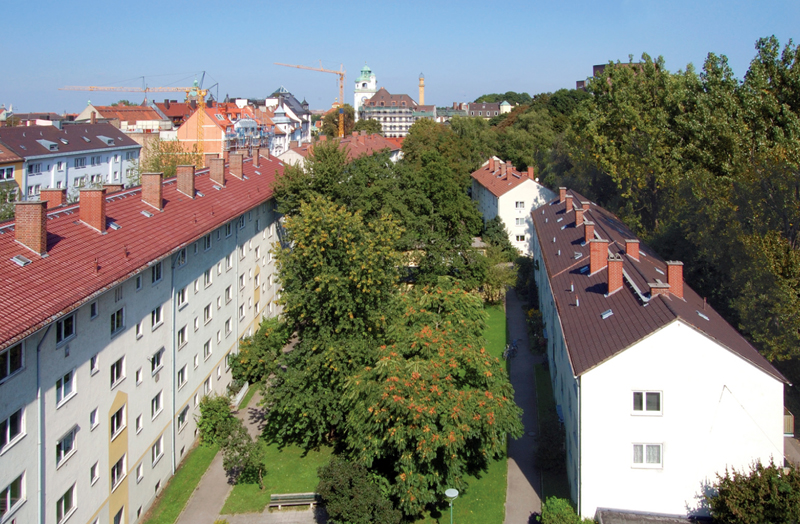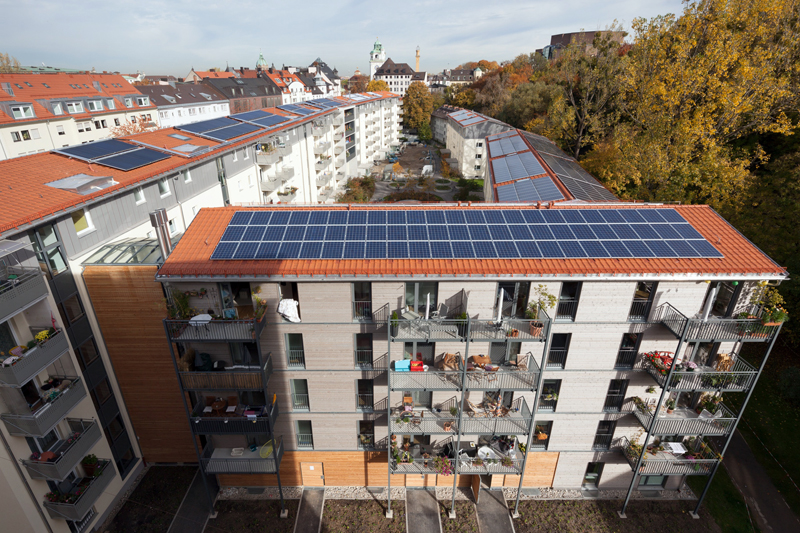 The aim of the project was to improve the building energy performance of this residential estate from the 1950s. The target was to achieve a primary energy demand that should undershoot (by at least 50 percent) the acceptable demand specified for a new building. Residual heat generation was to be based on substantial shares of renewable energy sources; besides, it was aimed to be carbon neutral (in terms of the overall energy balance calculations).
In collaboration with Stocker architects, Fraunhofer IBP developed an innovative and exemplary energy retrofitting concept for this residential complex. The concept includes insulating the external walls with vacuum insulation panels (VIPs) and Resol hard foam. The main elements featured in the concept are: the use of near-surface geothermal energy by gas-driven heat pumps, solar support of DHW and space heating by thermal collectors, and the use of rooftop photovoltaic modules. All building component joints and connections were calculated and optimized in order to avoid heat losses through thermal bridges.
Fraunhofer IBP supported and advised the planners and subcontractors during the construction/ installation phase of the energy saving measures. As part of the quality assurance process, the building airtightness was measured and the thermal insulation was checked by means of thermographic imaging. This was followed by a validation of the energy concept. In a subsequent 2-year monitoring phase the efficiency-enhancing components were examined during service.
All of the planned measures could be implemented. The initial malfunction of the gas-engine heat pump was corrected during the monitoring phase. The targets set for saving primary energy were achieved. The carbon-neutral heat supply of the residential estate was also accomplished.
The project was funded by the German Federal Ministry for Economic Affairs and Energy (BMWi) under ref. no. FKZ: 0329084L.
Further information: The project is featured on the BMWi-funded Internet portal "ENERGIEWENDEBAUEN".