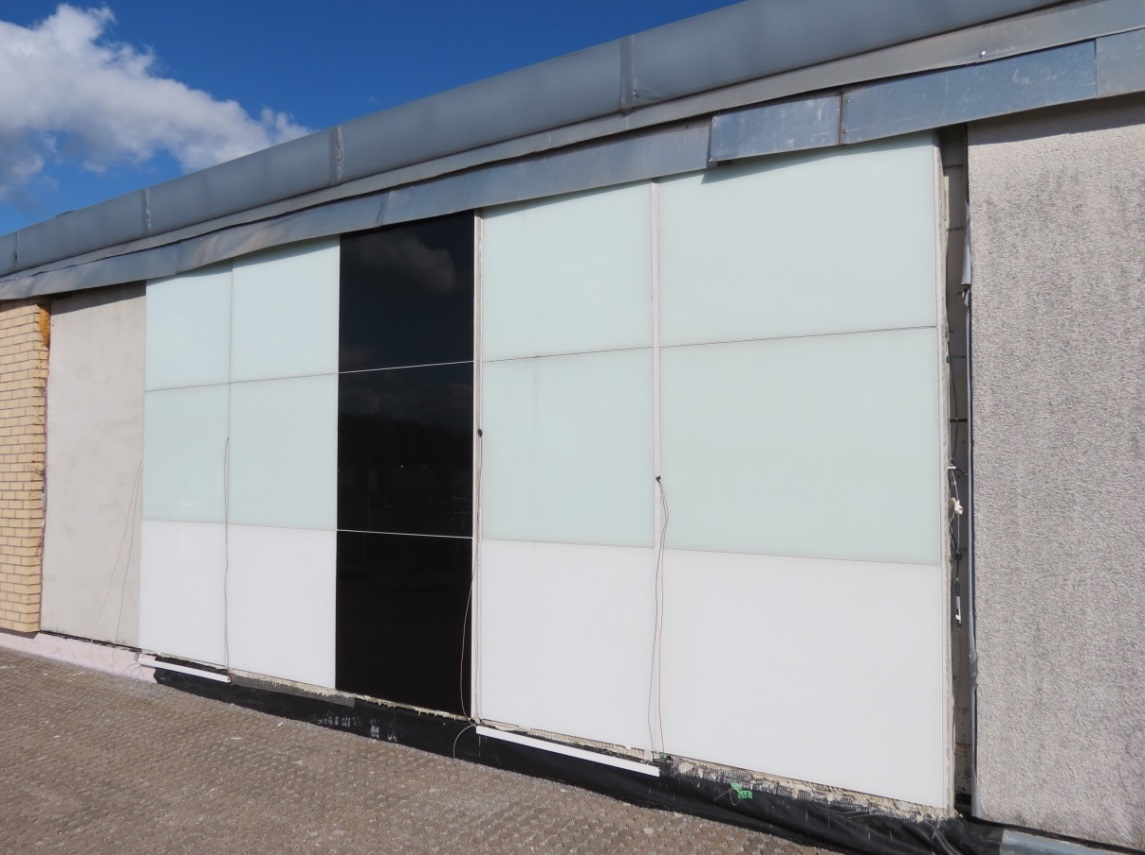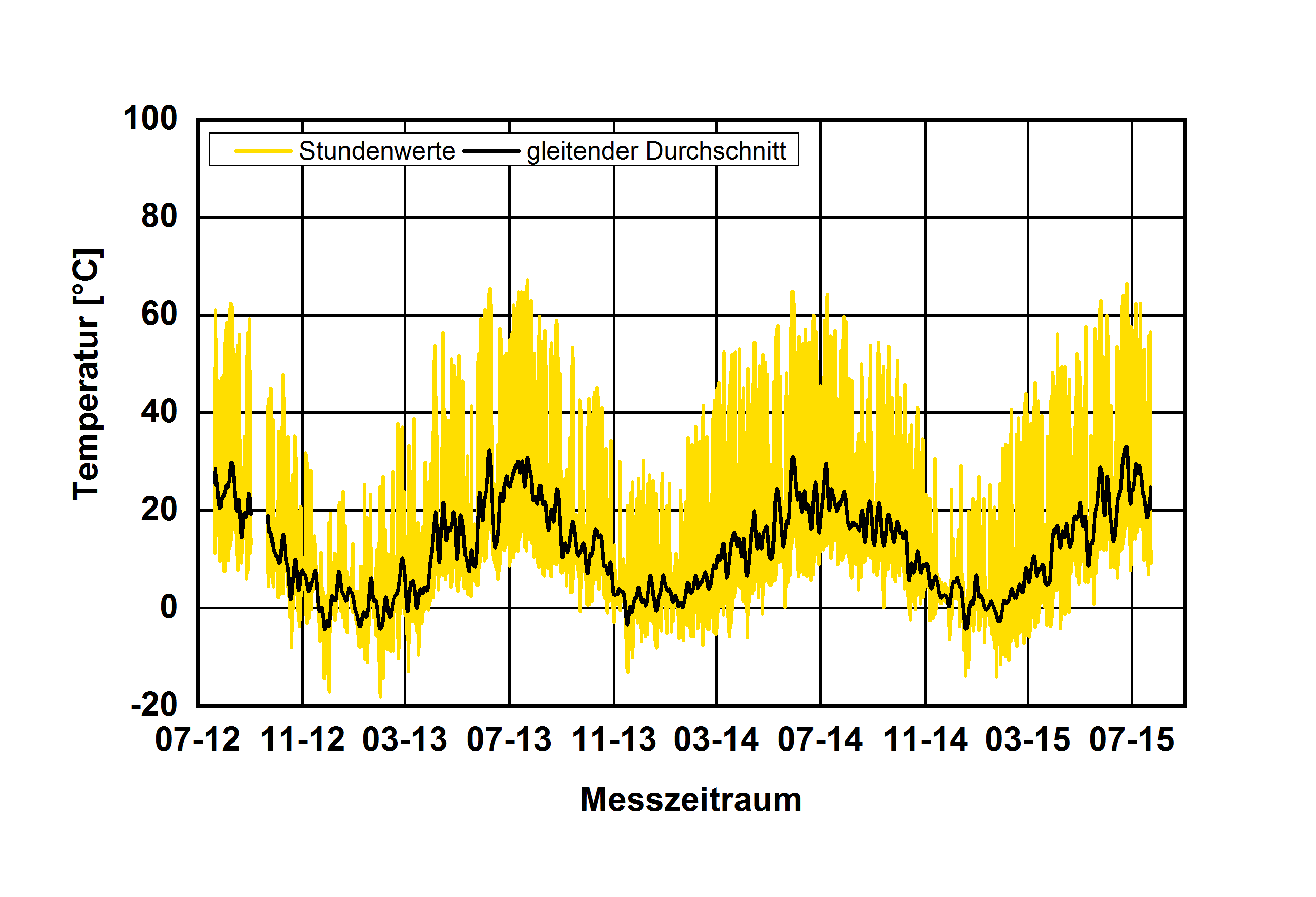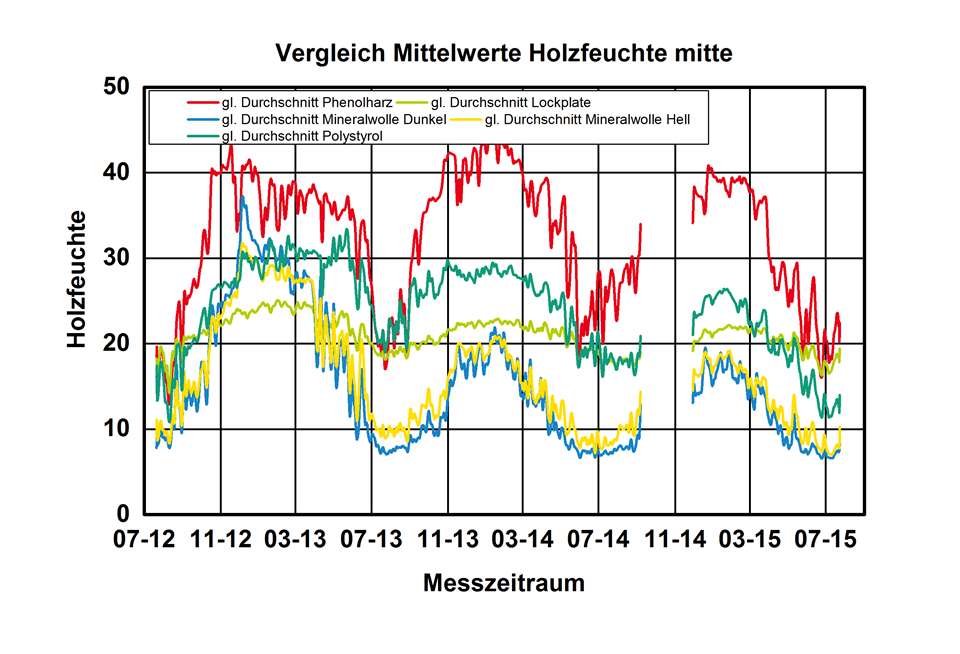 Architects want maximum design freedom, especially when it comes to the exterior of buildings. That is why they like to employ glass elements that adhere directly to the underlying composite thermal insulation system. This allows them to create a thin building envelope. However, such systems impose special demands in terms of building physics. The impermeability of the glass façade to water vapor can cause moisture to accumulate in the adhesive layer, increasing the risk of frost damage. Researchers at Fraunhofer IBP have conducted tests on such wall structures in the institute's open-air test facility for more than three years. Five different insulating materials were superimposed on glass elements of different colors, two based on vapor-permeable sheets of mineral wool, and three made from vapor-proof rigid EPS foam boards, phenolic resin boards, or vacuum insulation panels. The temperature and humidity in the gap between the glass element and the insulation were measured, first by means of capacitive humidity sensors and second using strips of wood placed on the insulation material, which deliver reliable results even at high humidity levels.
Higher temperatures than under plaster of the same color
During the winter season, the researchers kept the interior of the building at a temperature of around 20 °C and a relative humidity of 50 percent. The temperature curves show the daily and seasonal fluctuations. Whereas the temperature behind clear glass panels ranges between -15 °C and 65 °C, it sometimes rose to as high as 90 °C behind dark glass panels. A noteworthy finding was that the temperatures measured behind the glass panels tended to be higher than those measured under layers of plaster of the same color. This is because the glass surfaces are color-coated on the back, so solar heating takes place largely behind the exterior surface.
Major differences in moisture content
The five systems also demonstrated wide divergences in their moisture content. The lowest levels were recorded from the vapor-permeable mineral-wool variants. Contrary to expectations based on mathematical calculations, all five systems became drier as years went by. This appears to indicate that the systems were not completely vapor-tight to start with. Consequently, the accumulation of moisture behind the glass elements appears to be less critical than anticipated, thus reducing the risk of frost damage. In addition, the visual appearance of the glass façades did not deteriorate over the three-year test period - with the exception of minor discoloration of the silicon joints.