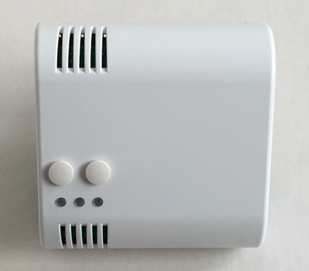 Black specks on the ceiling in the bathroom - mold has started to grow. Not only people living in old buildings struggle with this problem, but increasingly also those in new, airtight buildings. A huge amount of people are affected: Moisture and mold damage occurs in more than 12 percent of all German households. But what is the cause? There are several reasons: increased moisture entry, insufficient airing, as well as structural aspects such as thermal bridges or poor sealing on windows, but also socio-economic factors such as who owns the property. Many of these factors depend on how the users live and are therefore difficult to assess. Intelligent and individual moisture management in apartments is therefore becoming ever-more important.
Working hand in hand with mmc automation GmbH, the scientists in the Department of Hygrothermics at Fraunhofer IBP have developed a methodology which evaluates the measured indoor climate and protects both the user and the building fabric from damage. To do this, they employ indoor climate parameters that are measured directly, such as temperature, humidity and CO2 content, as well as the outdoor climate and the results of further evaluations, such as the growth of mold behind furniture or in places where thermal bridges occur. Based on these individual measurements, the method determines a ventilation recommendation. This is either automatically transmitted to the existing ventilation system, or the user receives an automatic request to air the room.
In contrast to solutions currently available on the market, the researchers at Fraunhofer IBP include more than the values measured at that moment in their evaluation. The methodology is capable of a lot more: it knows the building and the interior and learns the more it is used. This also applies to damage that has already occurred. For example, the air exchange is regulated in such a way that the existing mold growth at a thermal bridge is contained and a long-term remission is achieved. The developed method is already available on the market as a finished product.
It has already been integrated by mmc automation GmbH into its indoor climate analysis platform VALEA.
BIBLIOGRAPHY
1 German Federal Statistical Office – LEBEN IN EUROPA (EU-SILC): Einkommen und Lebensbedingungen in Deutschland und der Europäischen Union (Income and living conditions in Germany and the European Union).