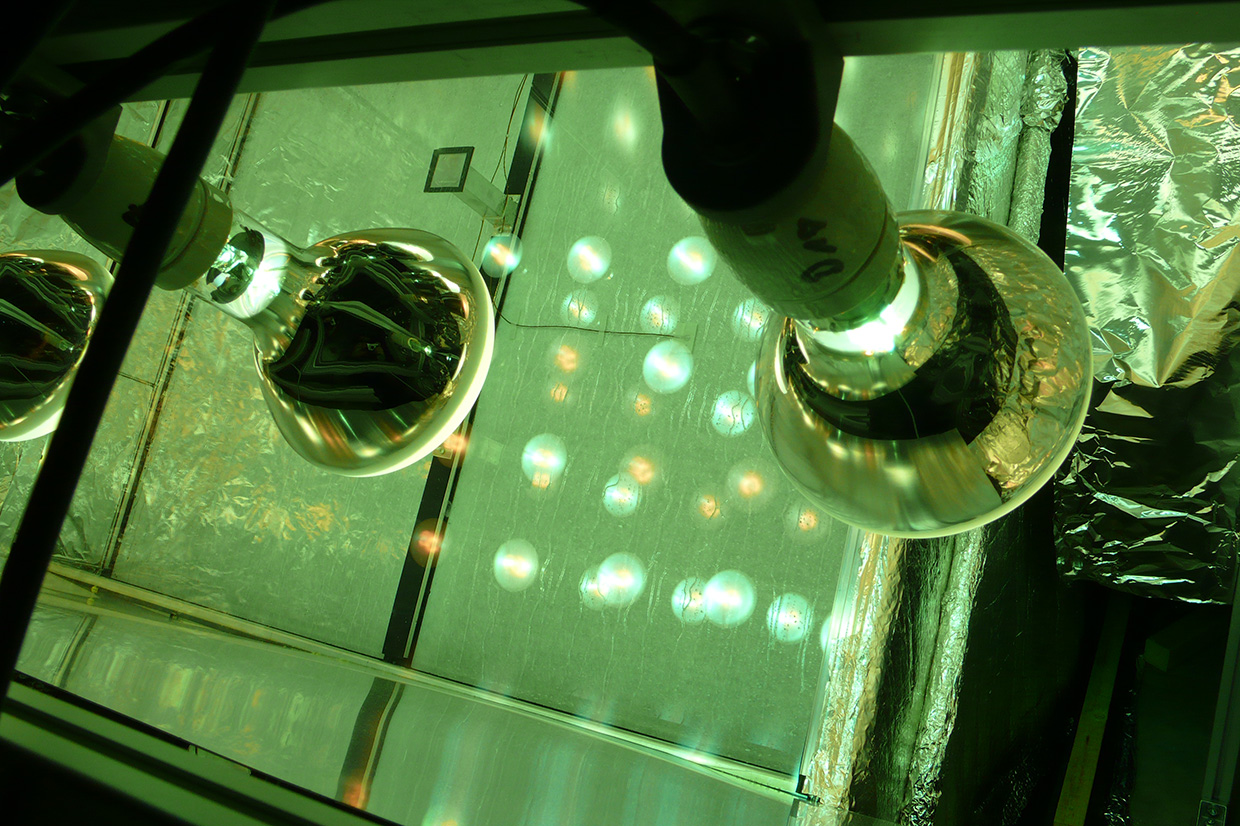 Rain is bucketing down and then, all of a sudden, the dark clouds disappear, and the sun comes out - the British climate is known for its moods. This changeability also has to be accounted for when carrying out building work, such as during a project to renovate the roof of a listed factory building. The whole surface of the roof was glazed and covered an area of almost 4,000 m². For heritage conservation reasons, the appearance had to be preserved while upgrading the roof insulation to meet today's building standards. The specialist planners stipulated that thermal insulation glazing be used as solar protection, with panes fitted on the exterior and a fleece inlay. To ensure the durability of the glass structure, tests were conducted on several original-size glass panes installed on a roof with an incline of 55 degrees and – in accordance with DIN EN 12543 – exposed to compressed-time weathering for 2,000 hours. This involves exposure to radiation with elevated UV levels, cyclical sprinkling, and temperature fluctuations between minus 10 and plus 50 degrees Celsius.
Fraunhofer IBP was able to implement the customer's testing requirements to the letter. After all, the researchers have a lot of know-how in constructing solar simulation installations. The standards generally prescribe insulation fields with a surface area of 1 m² and an irradiance of 900 W/ m². In the case of larger areas, such as here with over 4 m², overlapping effects occur and the irradiance over the entire glass element is uneven. Consequently, the researchers at Fraunhofer IBP developed a special calculation program that enables areas with a surface area of several square meters to be evenly irradiated. Because the customer had specified a temperature cycle of four hours, the temperature changes in the climate chambers had to be fast. This is almost impossible with larger chambers. Therefore, the scientists divided the testing area into two sections and placed a transparent cover over the test samples to create a narrow air duct in front of them. Using ducts that could be switched from "summer" to "winter" via motorized flaps in just a few seconds, the researchers connected both test sections to the air supply units.
After the tests, the scientists not only carried out visual inspections on the glass element but also opened up the sealed edge to determine by gravimetry whether water had been absorbed. In this way, they were able to demonstrate without doubt that the test samples were airtight.