New cooling concepts for avionics and associated electronics, LuFo IV (EFFESYS)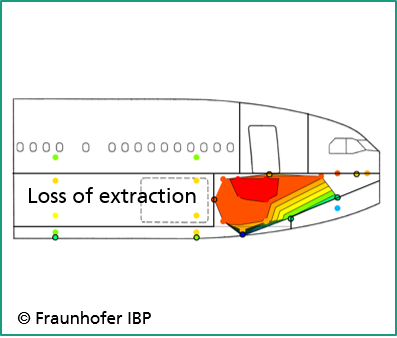 Goals
Simulation of the avionics bay. Impact of environmental conditions on avionics ventilation and failure cases related to temperature distribution.
Methodology
Reproduction of the LRU racks using heating foils

Reproduction of the ventilation system

Installation of the measurement instrumentation

Determination and assessment of the impact of environmental conditions on avionics ventilation

Examination of local and global temperature distribution after failures in the avionics bay

Examination and determination of local and global flow velocities in the avionics bay to validate CFD data
Results
In case of failure of the mechanical ventilation components, a modification of the design would allow yet unused heat sinks to be utilized. Heat pipes, for instance, might be an option for cooling the racks. They could transfer heat to the cold fuselage surface.
A passive combination, i.e. using thermal buoyancy and highly heat-conducting materials, could prolong the functionality of avionics components in case of systems failure.
A precise analysis of air bypasses and their impact can help identify further improvement potential, as the heat capacity of the avionics space itself obviously has not yet been fully utilized.
Funding agency
The project was funded by the German Federal Ministry for Economic Affairs and Energy (BMWi) under ref. no. FKZ: 20Y0803I.