A cascade concept for manufacturing high-quality chemicals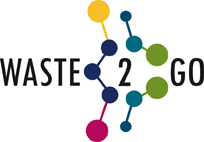 Today, 220 million tons of residual waste are generated in Europe (EU27) every year. Each citizen contributes to this with a quantity of 1.2 kilograms of waste per day [1]. Due to the heterogeneous composition and varying national conditions, this waste is nowadays either incinerated, biologically processed or disposed of in landfills. The Waste2Go project aims to increase the value of waste by transforming it into high quality chemicals. Alongside the project, the Life Cycle Engineering Department is evaluating the ecological, economic and social aspects of the innovative waste recycling process. Waste2Go - a technology for producing high-quality chemicals from waste.
"Thermo-mechanical process" - in the first step of the cascade, the entire residual waste is heat-treated. For a defined length of time, the residual waste is exposed to a specific pressure and temperature, as well as humidity, inside so-called rotoclaves. Besides rendering the waste more hygienic, the biological fraction also becomes more accessible for the enzymes used in the next process step.
"Enzyme platform and production" - an enzyme cocktail is developed specially for the heterogeneous base material to ensure a high degradation rate and maximum profit yield. This enzyme cocktail is produced in the course of the project by a purpose-built, large-scale industrial plant.
"Biodegradation process" - selected process technologies and optimal parameters determined for the enzymatic degradation process guarantee a maximum yield of the target substance.
"Purification and separation" - an innovative purification and separation technology based on supercritical water is being developed to isolate the monomers and oligomers of biological macromolecules from each other.
"Derivatization and application screening" - the type and quality of the products that can be recovered from the heat-treated residual waste using the enzymes are derived, and various application options for extracting chemicals are investigated and assessed.
"Life Cycle Assessment" - the sustainability of the new Waste2Go technology is evaluated in terms of ecological, economic and social aspects. The results are compared with the current incineration, biological processing and landfill methods, as well as with conventional techniques for producing the chemicals. From the comparison, recommendations are derived which serve as decision-making aids for handling residual waste in the future.
[1] Eurostat 2010